Our Facilities
The RCH facilities include a Projects Office and a "Digital Research Incubator" (research lab) in Rooms 3-51 and 3-52 of the William T. Young Library at the University of Kentucky. Designed for flexible configuration, the facilities are ideal for concentrated workshop sessions, as well as extended project work, and can accommodate work groups up to 10, or multiple smaller project teams.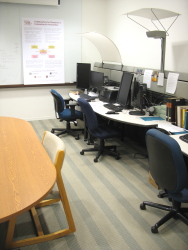 The Digital Research Incubator is an open collaborative space equipped with five networked workstations (PC and Mac), printers, scanners, a ceiling mounted data projector and white board, and a conference table. Its multiple uses include project team work sessions and meetings, multimedia presentations, and teleconferencing with off-site collaborators.
The Projects Office includes four semi-private workstations (PC, Mac, and Linux), small-group meeting space, a small technical reference library, and storage lockers. Project teams can use this space as a "headquarters" for development work, keeping project materials and resources on location for shared use by the team.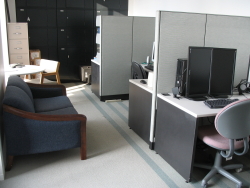 The computer workstations in both rooms have a robust wired connection to the campus network providing access to individual user accounts and storage as well as access to the RCH's development server, web server, and project storage for the production and dissemination of digital project materials.
Research teams engaged in digital projects affiliated with the RCH can check out keys to the Projects Office and Research Incubator for use of the facilities for the duration of their project work.
The RCH underwent an equipment upgrade in 2019, receiving computers being rotated out of service by Arts & Sciences computing services and UK Information Technology Services (ITS). Previous equipment upgrades were undertaken in 2011 (again with machines rotated out from A&S computing services), in 2009 thanks to the support of the Center for Visualization and Virtual Environments and Systems Administrator Chris Campbell, and in 2003 with the generous support of the Provost's Office, the Vice President for Fiscal Affairs and Information Technology, the Vice President for Research and Graduate Studies, and the Dean of Arts & Sciences.